Bolso Origins
Bolso Origins Final Release!
---
Yeah. Here it is. My very first complete game published. I'm not gonna be entering on details about myself, but yeah, I'm felling pretty nice about all of this, anyway, let's get to the point.
- Menu update: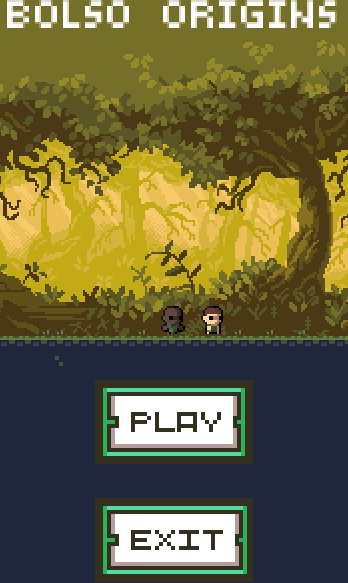 This is the new game menu. I've changed the buttons using this asset that I found here on itch. I've also removed the "how to play" button, I just don't think the game is that hard to figure out, so there was no need for that.
- Intro Scene:
I've just added an "Intro" scene where you can read a little be about the context of this game. Maybe I'll translate the whole interview and post it on a devlog here, maybe.
- Splash Animation, Swim Animation, Death Animation: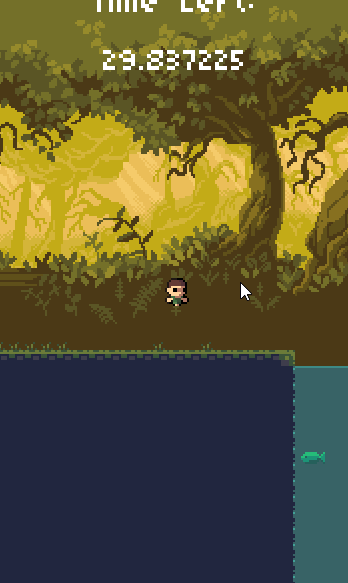 As you can see in the gif, there's now a little "water splash" that appears as you enter in water. It was pretty fun to make that in Godot. Then there's also a new swimming animation wich looks way better than the last one, and finally there's the dying animation. I've decided not to disappear with the player like I did in the previous releases. It was kind of strange to suddenly change the camera to the middle of the screen, showing him slowly drowning its more fun c: (and also, my parallax background doesnt go crazy that way).
The same principle of the death animation have been applied to the winning animation, now you'll be able to see little bolso dropping the guy on the ground while you receive your score.
- SFX
I've found this amazing sound pack at OpenGameArt, and used some of its SFX to try to bring some more fun to the game. I tried keep the sounds concise and was able to do it to some extent.
And that's it. Bolso Origins now is finally Complete. There was lots of things that I could have keep on working to implement, but this was never meant to be a big and very detailed project, It was meant just to be a game that I would finish, and I did it. Now, it doesn't mean that I'll never work on it anymore, I'll probably release some updates down the road (like the new fishes that I promissed) but I'm not going to work on it everyday like I've been doing.
Anyway, now I'm gonna be looking forward to participating in a gamejam, expect me to post a new barely playable project in the next couple days, but if you can't wait til that, you can always follow me on twitter, things pop up first there.
Oh! And before I forget, Bolso Origins has 4 Scores that you can get, I was never able to get the fourth one, neither did my friend Keiuzami.
Files
Bolso_origins_2.0.1.zip
17 MB
Feb 26, 2019
Bolso_Origins_2.0.1_final.apk
21 MB
Feb 26, 2019